Ok so I've had alot of different questions about my ruffle shirt that I made last week so I decided to do a tutorial to answer those questions... this is my biggest one yet so if anything is unclear or you have any questions, please leave a comment and a way to contact you and I'll try and answer it! And I learned how to do this all thanks to Ashley's tutorial on her little ruffle shirt so you can always check hers out as well.
And a few side notes before starting. Be sure to use a ball point needle. This makes it so much easier! They are clearly labeled and easy to find at Joann's. Also- I used a zig-zag stitch for all of my seams. And for my side seams, I then stitch alongside with a straight stitch just to reinforce my seams.
Ok, so the best and easiest way to make this shirt is to re-fashion or re-purpose an old one. Now when I made my ruffle shirt, I used a knit from Joann's that I fell in love with after buying some to make a dress for M with. (That's still in the thinking stage but it's gonna be good!!) And as a side note- if you do just buy and use a knit, make sure you check which direction the knit stretches. Otherwise, it'll be hard to get on and off... I learned from experience! Ok but if you use an old tee, you already have your sleeve and bottom hems done. Nice. So for me, I used a shirt I was given 2 years ago from Delta after being bumped from a flight. But it's an XL so I've never worn it but I couldn't throw it out. The material was just so soft and so white that I had always planned on somehow making something for M with it. But instead today, it became my new shirt.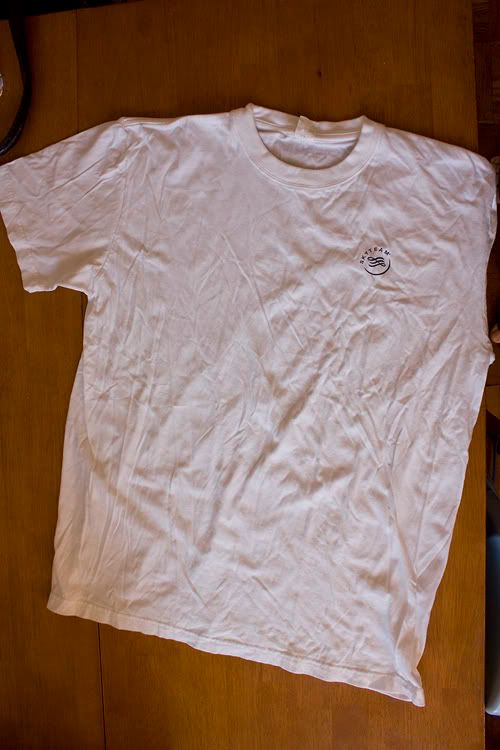 Then take an existing shirt that is the size you want. Now some people trace a paper pattern first but I tend to skip any unnecessary steps and just cut the shape out while its laying on top. Just be careful not to snip your good shirt! And be sure to leave seam allowances.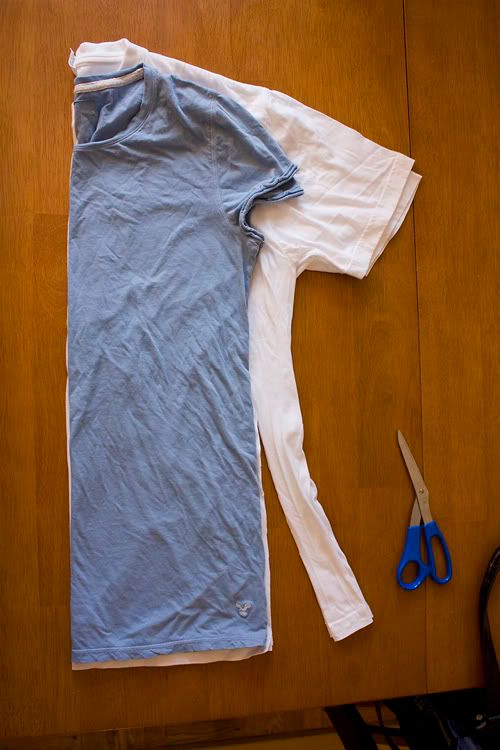 And for the sleeves, either use a tank top or just flip the sleeves like I've done here.
Then cut the back neckline and front, scooping the front a little more. You can make this neckline however you'd like. Scoop, V-neck, crew... you choose. And because of the material, I don't hem. I just wash and let the edges roll. I like that look. If you want to add a trim, Ashley shows a great how to in her tutorial for her ruffle shirt. So this is what you should end up with at this point.




Now you're going to pin your right sides together and sew along the top of your 2 pieces.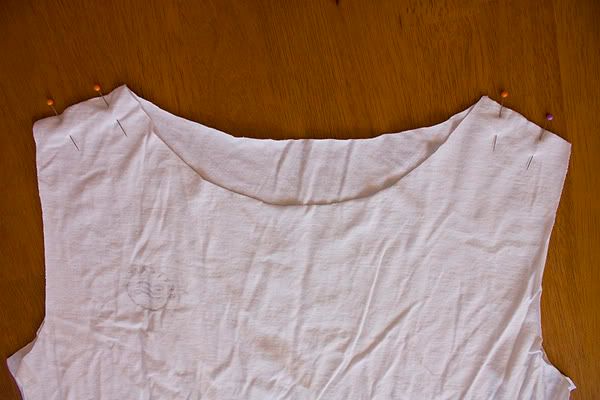 Giving you this: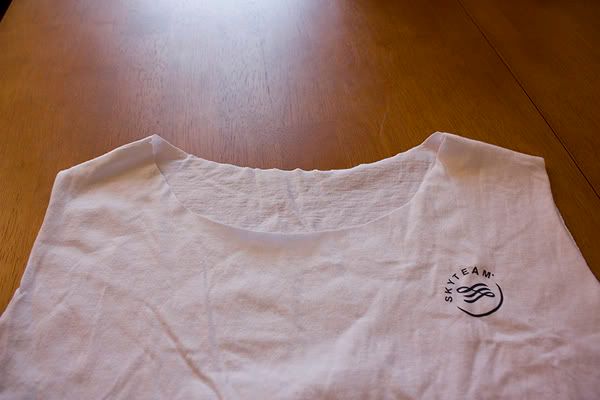 Now cut out your sleeves. Just lay your shirt on top again and follow it. And you can make your sleeve length whatever you'd like. That's the beauty of this shirt- you choose and make it all very personal to what you want!!


And you should end up with 2 pieces that look somewhat similar to this
Ok so now, you want to pin your sleeve to your shirt body making sure they are right sides together. Be sure to start at the ends and then move into the middle. I like to have a little bit of extra material to ruffle so that the sleeves are slightly puckered. The more the extra material there is, the bigger the pucker and poof will be.




And so at this point, you should have this. The top sewn and the sleeves attached but both sides open. I like to try it on here and just make sure I like my neck and sleeves.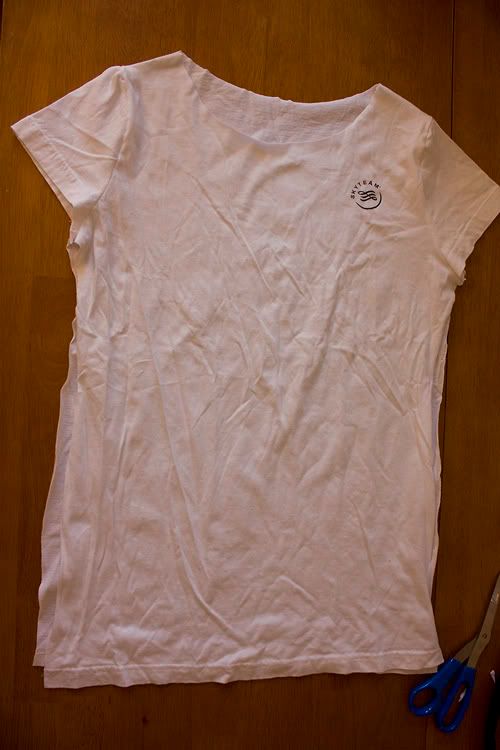 Now turn it inside out again so that your right sides are together and pin your entire side length from the sleeve all the way to the end of the shirt




Line up your arm pit seams-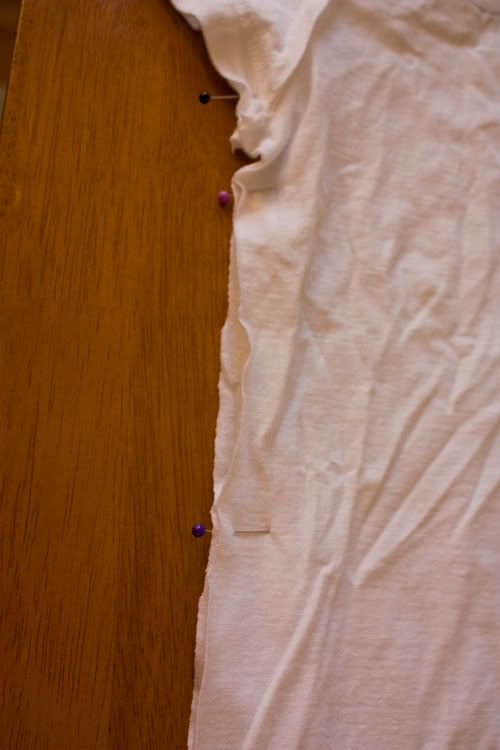 And line up the bottom of your shirt. Your hems will show if they are uneven.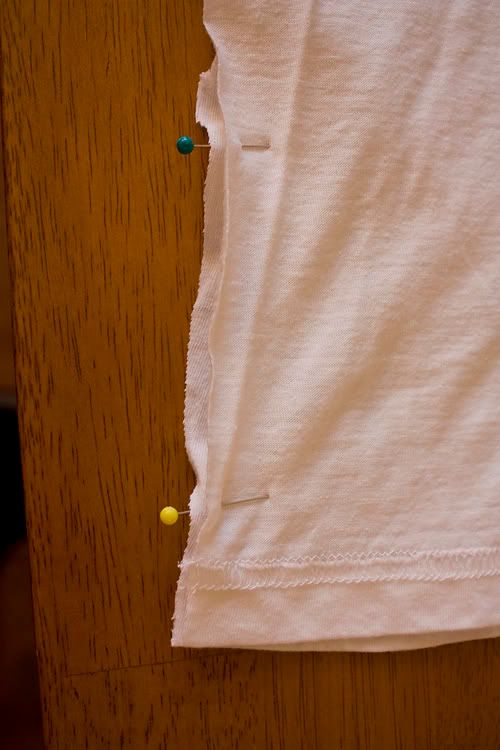 So now sew both sides, slightly snip the corner of the armpit making sure not to clip your seams, and voila! You've made a shirt.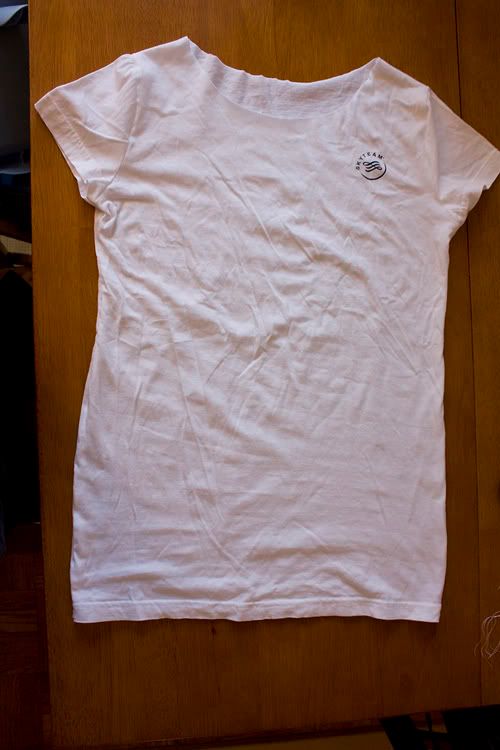 Look how easy that was! (And don't mind me in the picture. I was trying to watch M, stand on a corner of the ottoman, and take a picture without falling over... Oh and no- that isn't dust on my mirror. Dust in my house? Never.)




Now that you have the base of the shirt, you can either call it good at this point or if like me, you have a Delta logo to cover up, stay tuned for some top embellishments! I'll be working on a tutorial for those soon too but at least for now, you can go and sew your shirt!